For the 2019 Spring Break, six Wesley students (plus Director Charlie Farnum) travelled to Mission, South Dakota where they worked with Tree of Life Ministry on the Rosebud Reservation. This trip was intended as an opportunity to gain awareness and understanding about the Lakota culture as well as serve the Lakota people. The students had the option through the week of helping at a soup kitchen, warehouse, dollar store, thrift store, or a construction site; workers were able to directly interact with community members at most of these sites.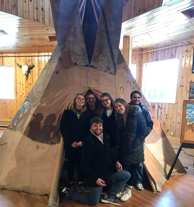 Tree of Life Ministry provided the students with many cultural activities to help them better understand the people. They were able to speak directly to the Chief, and hear stories about his life and community. A traditional Lakota artist and game maker shared his artwork and showed the students how to make their own Lakota games, which was a very entertaining evening for everyone. Lakota dancers showed their traditional style of Grass Dance and Jingle Dance, and even taught the group some steps! The group also visited The Wounded Knee Massacre Monument, the Wind Cave, and Crazy Horse Memorial to learn some of the history between the US and the Lakota people.
This trip was a great experience. Not only were participants able to do God's work through service, they gained a deeper understanding and appreciation for another culture. They formed meaningful bonds and connections with each other, resulting in a stronger leadership team for Wesley. Thank you to all who supported the trip!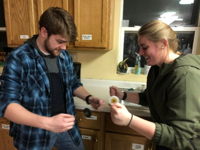 (Written by Elizabeth Clark)