Audra is a Michigander from the Anishinaabe and Peoria land called Livingston County. She comes to Wesley at CMU from immigrant justice organizing with the United Methodist General Board of Global Ministries and ecological regeneration efforts at Garrett-Evangelical Theological Seminary, where she completed her Master of Arts in Public Ministry.
Audra enjoys gardening and cooking with her husband, Jacob, and their puppy, Zuli. She is committed to inviting students into deeper connection with God, community, and creation and supporting their contributions to the divine work of justice and healing.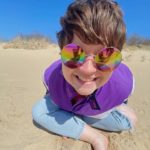 Camryn is a second-year transfer student from Rapid City, SD. She is majoring in Commercial Music with a minor in Songwriting. Camryn has previously earned her Associates degree in Performing Arts with a Vocal Emphasis from the Young Americans College of Performing Arts.
Camryn enjoys playing guitar and piano as well as singing. In her free time she also enjoys writing music.
Wesley has become a home for her because it is such a uniquely open and affirming space. She loves the community and all of the opportunities within this space to connect with other people.
Hannah is from Flint, MI and is a fourth year student at CMU. She is majoring in meteorology with a double minor in computer science and mathematics.
Hannah came to Wesley because she wanted to continue to go to church while at college and found a home at Wesley.
Hannah plays in unified sports with Special Olympics and is in the CMU marching band, where she plays the french horn. She likes writing poetry, watching movies and sports, playing video games, and drawing. She self-identifies as a nerd.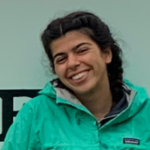 Communications and Social Media
Audrey is a second-year transfer student from Monroe, MI. She is majoring in Secondary Education: Integrated Science and minoring in Recreation: Outdoor and Environmental education. She previously attended Monroe County Community College.
In her free time, Audrey loves to do anything outside including hiking, kayaking, hanging out in her hammock, and working at summer camp. She also loves road trips and exploring the national parks.
Wesley has been a home away from home for Audrey during her time at CMU. The community has always been a kind and welcoming environment for her. She believes Wesley is a place she can ask questions and express doubts without judgment.