Wesley is a christian community at Central Michigan University, open to all students, including non-christians.
"Christian" means caring, not hateful.
Wesley is an extension ministry of the United Methodist Church, a mainline Christian denomination. We ask everyone to try and follow Jesus' Golden Rule – "Treat others as you would like to be treated" – whenever participating at Wesley events. We don't enjoy having religion pushed on us, so we won't push our religion on you. We welcome conversations about religion, so we will politely invite you to such conversations – primarily through advertising – but everyone is welcome to participate at Wesley without fear of being harassed or condemned.
"Community" means having things in common.
We invite you to join in wherever you find something in common with us. If you're interested in Christianity, try a worship service, discussion group, or Bible study. If you're interested in eating, or dancing, or studying, or movies, we have weekly events in those areas. If you already have a group that's looking for a great place to meet, check out the Wesley Center – perhaps you'll be our next community!
Beyond a common interest, we encourage people to start sharing more in common, especially their lives and concerns. We believe working together for the common good is key to a healthy community.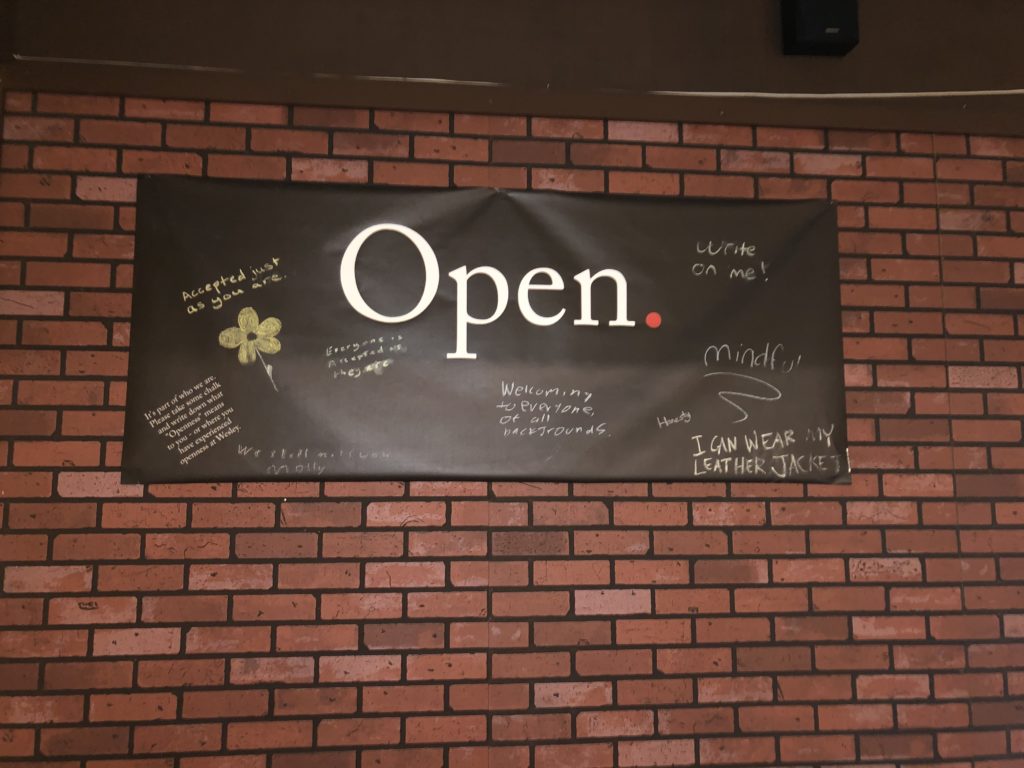 Wesley values openness, authenticity, and community.
"Community" goes without saying – it's basic to our definition. But we don't want a community created by artificial uniformity.
We are open to all people, including those often excluded by religious groups.
Most religious groups claim they are open to all people. We mean it. We are proud to count among our members people who are Muslim, Hindu, Agnostic, Gay, Trans, Light skinned, Dark skinned, Young, Old… And we are open to people in varied conditions, including people with mental illnesses and people dealing with addictions.
In order for this to work, we don't condemn people, and we ask you to avoid condemning others as well.
Our leaders are authentic. We invite you to be the same.
Wesley is a place where there's no need to pretend to be what you're not. Our leaders are real people who make real mistakes and are willing to say so. Because we are open to all people, Wesley is a safe place for honest discussions about difficult subjects.
Wesley teaches the Golden Rule at all its events, and a broad perspective on Christianity at its religious ones.
We believe treating others as you wish to be treated is fundamental to an open, authentic community, and so the Golden Rule is promoted (usually by example) at all events. Religious events attempt to offer a broad view of Christianity as it has varied through time and space, allowing students to form for themselves a theology that is consistent with their values. Our pastor has his own views – which he will be happy to share with you – but people are always welcome to disagree.